What's in for you?
As a start-up with a breakthrough idea, getting your concept funded is probably not your first need – it's validation, or proof that it works. This is what the Nutreco Feed&Food Tech Challenge has to offer to you. 
Anyone can participate, as long as you have an innovative product, concept or service
The Nutreco Feed&Food Tech Challenge platform offers a new way of sharing ideas and concepts. If you enter the challenge, Nutreco experts and scientists will enrich and strengthen your innovation.
After the closure of the Challenge on 20 March, Nutreco experts will choose the 15 finalists that will be invited to the Netherlands to receive extensive guidance and network with industry experts and investors during the three-day Nutreco Feed &Food Tech Challenge Event in Amersfoort 11-13 May 2020
13 May our esteemed jury will select the winner. Depending on the business concept, the winner will be rewarded with a suitable scientific (on-farm) validation trial, including a validation report, and/or consulting through internal or external experts on topics critical for your business; this will be a crucial next step in introducing your innovation to the world and will belong to you. It will accelerate your innovation in Feeding the Future!
The top 3 will get tickets to F&A Next, this event hosts investors, farmers, food & agribusiness executives and opinion leaders for one and a half-day of pitching, networking and debating the dynamics in food and agriculture.
Application process
 From 24 January to 20 March the platform is open.
Ideas will be checked by The Nutreco Feed Tech Challenge team before going live.
Once approved by the moderator, ideas are visible to all other users of the Nutreco Feed&Food Tech Challenge Community; ideas can be viewed, commented on and voted on by the community.
Over the  "challenge" period (24 January - 20 March) you will be asked to pass milestones which may include gathering votes from the community, answering additional questions, adding information about your idea or submitting a full business case.
Only the moderator can edit or change information already posted. You may be asked to add information to your idea post as part of a milestone. 
Full business case submission will be done per email and information will be kept confidential. Non-disclosure agreements will be offered to the participants achieving this milestone.
You must complete all milestones to be eligible for the finals
After 20 March 2020 The Nutreco Feed Tech Challenge Team selects 15 ideas that will participate in the Nutreco Feed&Food Tech Challenge Event.
The top 15 will be invited to the Netherlands for the final event where an expert jury will select the winner.
The final event will take place in Amersfoort. 
13 May the jury selects the winner of the scientific validation trial; The top 3 will get tickets for F&A Next 13-14 May
Selection process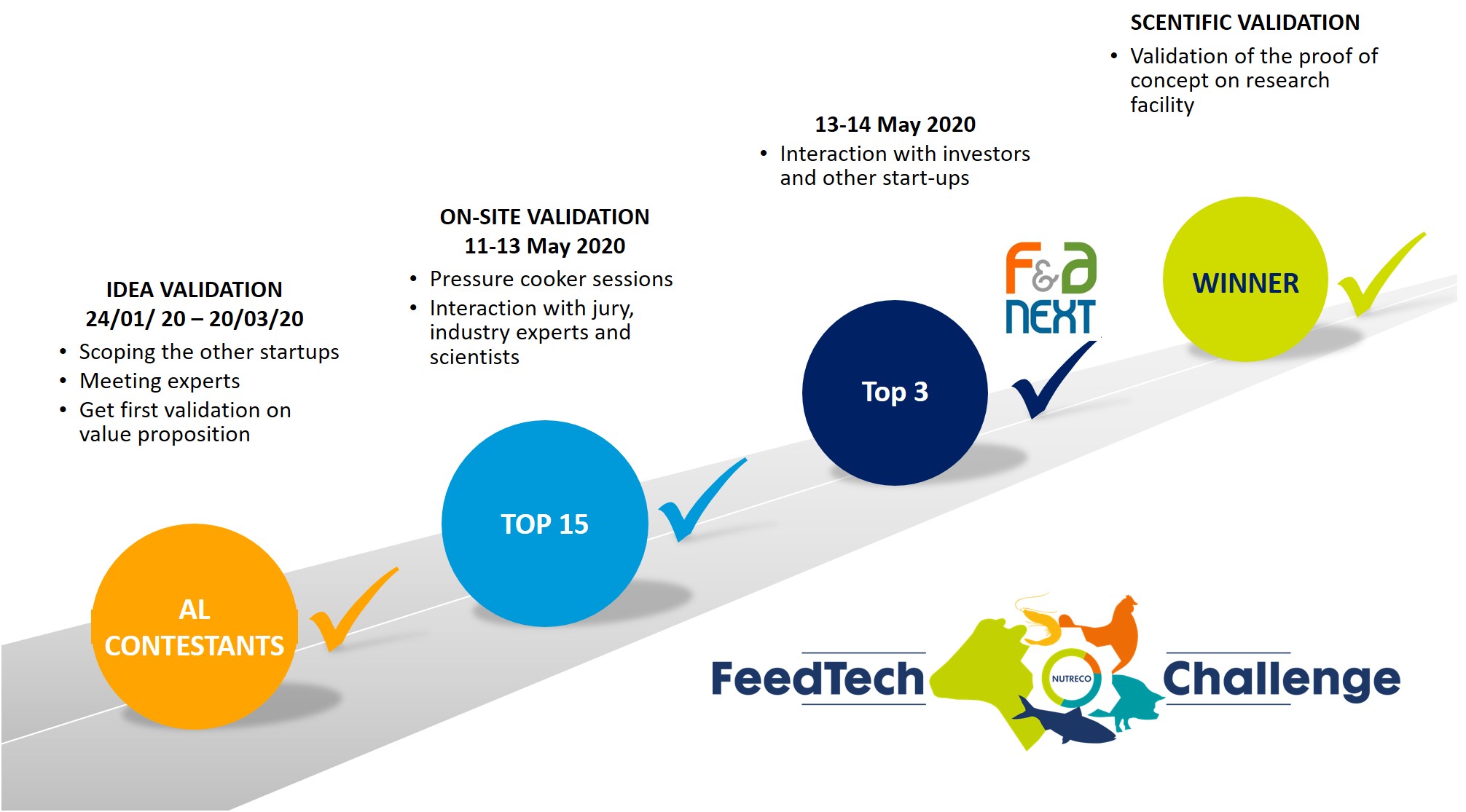 If you or your organisation owns any intellectual property rights in the idea included in your application, those rights will remain your property
You must ensure you are or your organisation is the owner or licensee of all intellectual property relevant to your application and that the submission and assessment of your application will not breach any right or interest of any third party.
As a user who contributes or comments on any other submitter's idea, you waive any claim to the intellectual property rights in that idea.